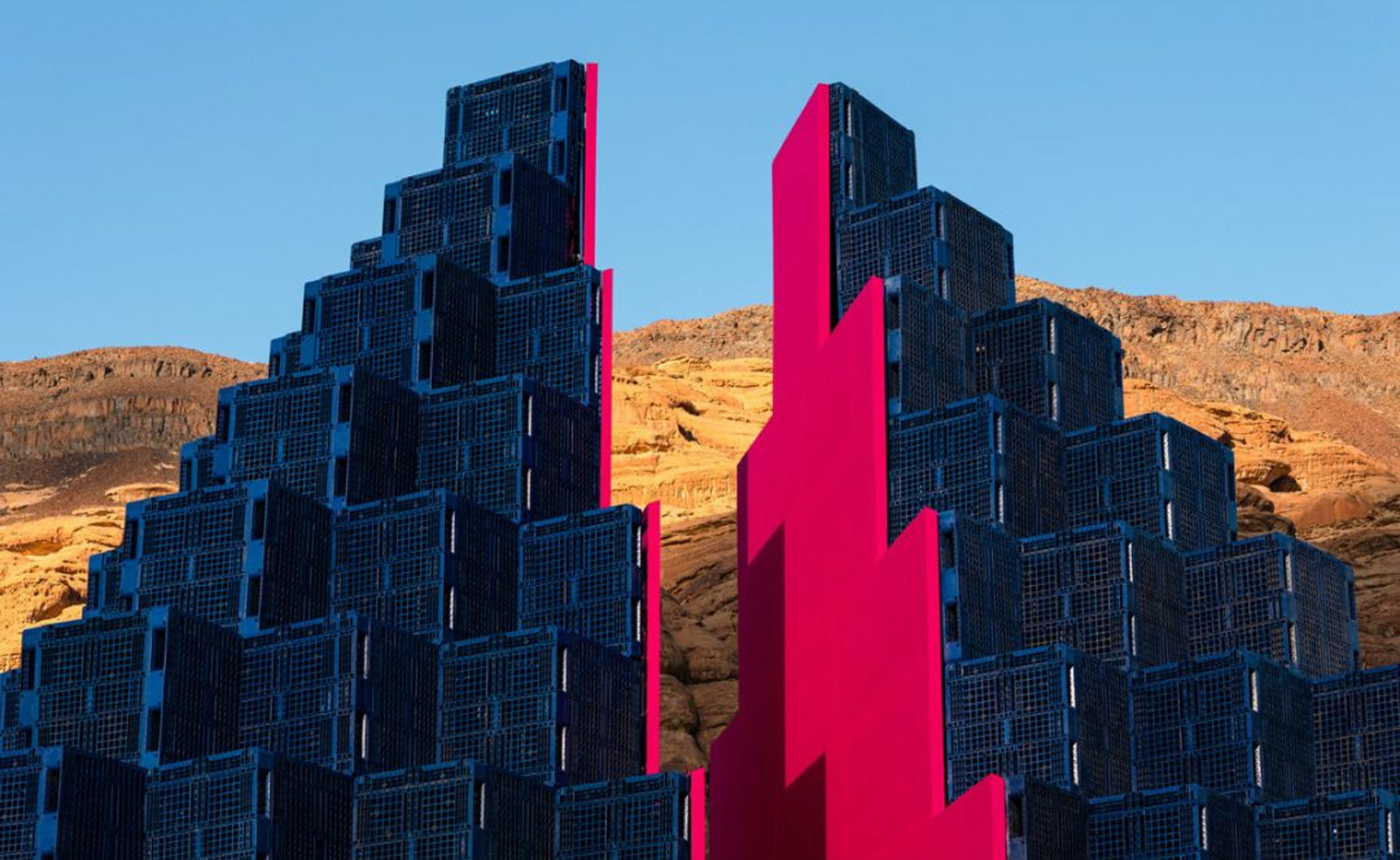 An art exhibition held in the desert, and a barren land becomes a clocking landmark every second
The artist of A Concise Passage

cleverly used the concepts of "civilization" and "commercial" to make the golden letters symbolizing ancient civilizations

The towers are combined with materials of modern commerce. The appearance of blue and red is very strong, and the surrounding is calm

In stark contrast to the landscape, it becomes a very dynamic "modern monument", at night

At night, the passages on the ground will be illuminated , dreamy and beautiful.

One Two Three Swing


Such a landscape suddenly appeared in the desert, presumably you have never thought of it. Artists Between Valleys and Deserts

In the middle area, such a swing installation is arranged, consisting of several sets of swings with three seats and orange supports

People who come here can play on the swing for a while.

RENT


The blue statue in the picture is a fictional character imagined by the artist - Elyseria. she is a

Astronaut since the 25th century, specializing in fields related to astronomy and navigation. She was in 6000 BC

Arrived on Earth in 2000 and became an " Star Guardian " on Earth . artist with striking

Blue created her, reminiscent of the vastness of the universe, embodying a fictional mythical figure

wisdom.

Now You See Me, Now You Don't


Now You See Me, Now You Don't is to describe appearing and disappearing at any time in the desert

The word "water beach". The artist got inspiration from it and set countless

A trampoline that people can jump on. At night, it even glows.

Glimpses of the Past


The artist creates unique desert objects by altering containers traditionally used for storage and transport

A shimmering "river". as the mountains and sky are reflected from the glossy mirror surface of the container

time, it evoked a deep sense of nostalgia.

Kholkhal Aliya


The appearance of this installation is very decorative, with exquisite details. The light will pass through the openings in the sculpture

mouth filter, thus forming the pattern of the ground. As the day moves, the sun and shadows move, the Lord

The theme has changed, the sky is constructed on the ground, and light and shadow are produced on the ground at the same time.

Falling Stones Garden


Titled "Falling Rock Garden," the artist was inspired by the sandstone of Alula's desert valleys

Natural rockfall at the bottom of a cliff. It consists of 320 sculptures of different sizes and colors, full of

The dynamic installation challenges the monotony of the surrounding landscape.

The Future is Now


This symbolic minimalist sculpture has a smooth surface that reflects in the light

It has a colorful and dazzling appearance. The artist uses this exterior with a strong sense of futurism and space

View, the surrounding giant rocks and mountains are more set off.